SEPTEMBER 2001 USS TRATHEN REUNION
The actual document is hard to read, I have recreated it below.
Congratulations to the sailors of USS TRATHEN on the occasion of your reunion. Your celebration will provide a chance to reflect on the proud legacy of your great ship and of the men who sailed her.

On behalf of the Joint Chiefs of Staff, I would like to personally thank the former sailors of TRATHEN for your outstanding service to our Nation. From the ship's early years fighting in the Pacific during World War II; to the Korean conflict and entry into the "Train Buster Club;" to the outstanding support provided to our forces ashore from the waters off the coast of Vietnam, the sailors of TRATHEN found no mission that was too difficult nor any sacrifice that was too great.

As you come together to celebrate those who served aboard DD 530, I want to thank you for your service. As citizens of honor and integrity, you answered the call and served the cause of liberty. Your courage, dedication, and sacrifice played significant roles in securing the prosperity and freedom that America enjoys today.

The proud legacy of ships like TRATHEN is embraced by the men and women who serve in our Navy today. Each and every sailor stands ready to carry on that tradition by being fully prepared to protect our freedom and security in the years ahead.

With best wishes for an enjoyable reunion,

HENRY H. SHELTON
Chairman,
Joint Chiefs of Staff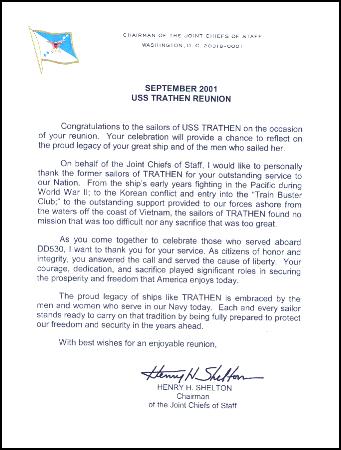 In september 2001 the Trathen Association held their annual reunion in Washington, D.C. In recognition of that event and of the service rendered by the Trathen and her crew, the Chairman of the Joint Chiefs presented the citation to the left.