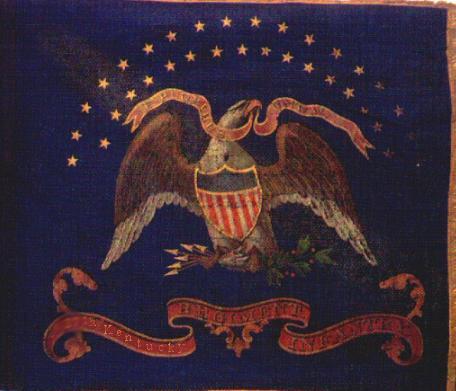 Union Army Regimental Flag
I have added new photos to Company K thanks to contributing descendents of these men.
Recently, a headstone to J.B. Gregory Co E, 9th KY was located in the Hoosier National Forest far from any habitation. If you know anything about this soldier's life after the war, please contact me. I'm curious how his headstone ended up in a national forest.
Currently, I have no photos for Company "F". If you have a photo of a 9th Kentucky Infantry Regiment soldier, I would like to place it on this webpage dedicated to the men of this fighting Kentucky infantry regiment.
Author of this webpage is a member of the Sons of Union Veterans of the Civil War and the Sgt Major of Payne's Rifles a Civil War era color guard.
Custer's Lost Officer, the Search for Lt. Henry Harrington, 7th U.S. Cavalry